As Oscar Wilde eloquently said, 'Mere colour can speak to the soul in a thousand different ways.'  Colours can influence our emotions and mental state. This is why companies invest huge amounts of time and money into selecting just the right colour for their branding. And maybe it shouldn't be any different for our homes (well perhaps a scaled down version anyway!)
Just like your oldest friend or favourite relative, a new colour scheme is something you have to invite and welcome into your home. It's something you have to live with day in, day out. It's your new lodger. Whether you're starting a complete décor overhaul or simply want to add a few pops of colour to your living room or bedroom, it's a big decision to make.
Looking back
We've put together a blog series which looks at different colours, a snippet about their life in history and trends in the world of interior design. We're kicking off by looking at blue.  Varying shades of blue have been used in art and interiors for thousands of years.
In ancient Egypt blue was held in very high regard.  The semi-precious stone lapis lazuli was used to make jewellery and ornaments and later, in the renaissance, to make the pigment ultramarine (sometimes known as 'true blue'), the most expensive of all pigments.  It's believed that Michelangelo left his painting The Entombment (1500-01) unfinished because he did not have the funds to buy ultramarine.  Thankfully for us it's far more accessible today!
We're feeling this
When used in the right space, blue is often associated with calmness, serenity and nature. Certain shades evoke images of the ocean and the night sky.  When selecting the right shade for your home, consider that it's ideally placed in a room which benefits from lots of natural light.  It's sometimes feared that blue can look cold and gloomy if it's in a dull room. Featured below is our Orson Blue Wingback Chair which is bathed in sunlight against deep blue, moody walls. The contrasting accents of red and the foliage really lift the colour of the wall and the result is fabulous!
Adding it to your home
We decorated our living room in Sapphire Salute by Dulux.  I was initially concerned that as mentioned above, our décor choice could look cold and uninviting.  To prevent this we decided to paint two focus walls and the rest remained in Golden Jasmine. I placed a lighter linen armchair in front of the sapphire wall. To add some warmth to the living room I used our blush pink velvet Lola ottoman and velvet rose gold cushion. Adding contrasting, warmer fabrics and homewares is a great way to ensure your room won't feel dark.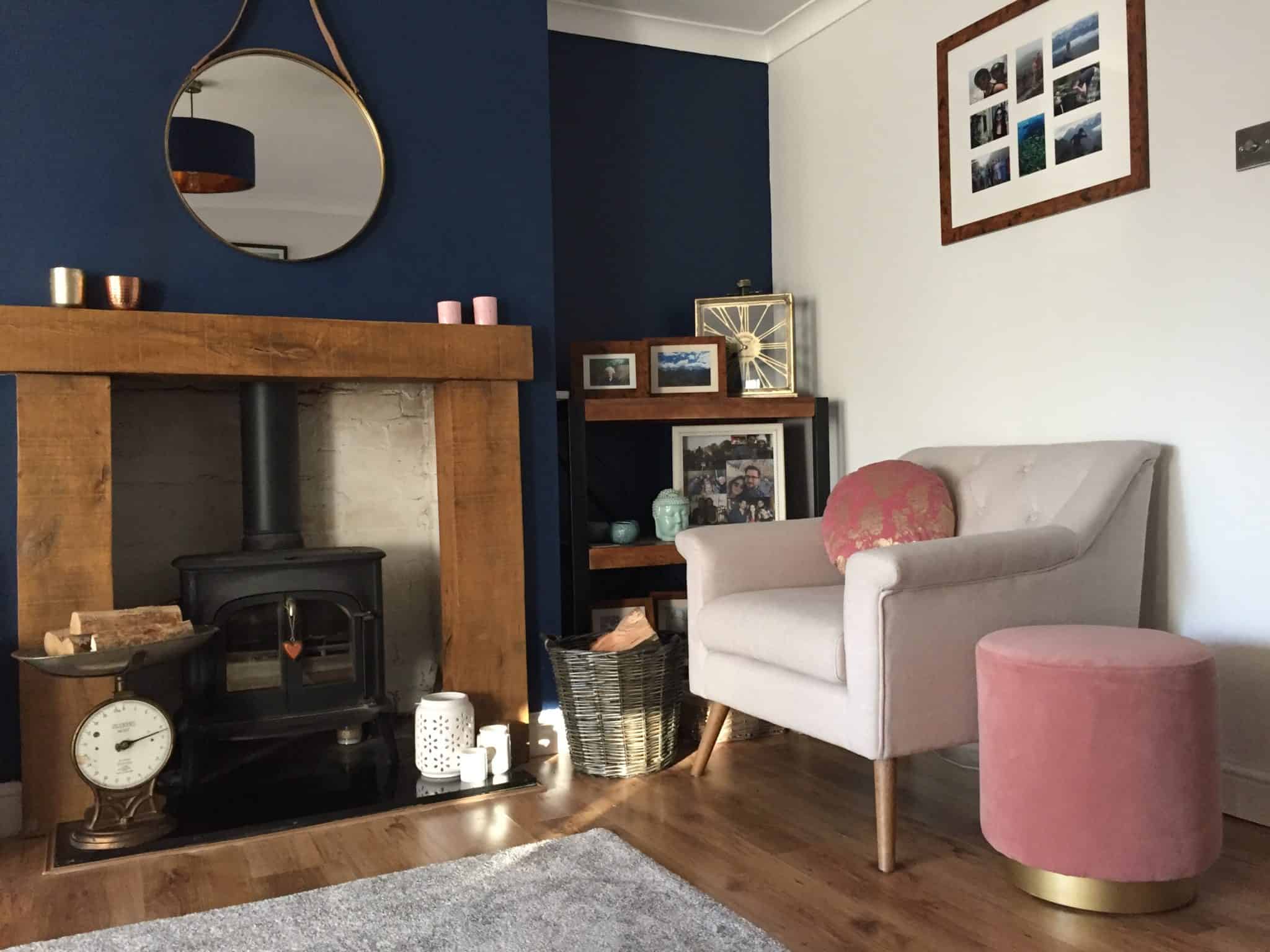 One of our favourite interior designers to work with is Melanie Jade Designs. She's also embraced a blue feature wall in her bedroom and accentuated it using our Orson blue velvet wingback chair.  Paired with warming hues of blush pink and natural wood the result is amazing!
Interior trends
Blue has been a strong colour choice for interior designers for a while. And while more pastel tones and earthy hues are starting to take to the spotlight, it still remains a firm favourite.  This is certainly true of our blue Orson wingback, Ava cocktail chair and Lola and Margot footstools.  These are excellent choices if you just want to pack a punch without getting the dust sheets and rollers out.