Green has been favoured within the world of interior design for some time. And it's easy to see the appeal. This design trend has spilled over into our homes and we're seeing more and more emerald green velvet sofas, soft sage chairs and soothing hunter green tones being used in décor choices.
Looking back
The word green comes from the middle English and old English word 'grene'. It has the same root as the word 'grass' and 'grow' which of course couldn't be more apt!
In the middle ages and the renaissance, the colour of clothing depicted a person's social and working rank. The colour red was reserved for royalty, brown and grey for peasants and green by merchants. If you look at da Vinci's Mona Lisa (the wife of a wealthy silk merchant) she is wearing a green bodice.
We're feeling this
The biggest draw for using green hues in the home is its strong association with nature. It symbolises life and growth and brings about a sense of calm. It evokes images of peaceful meadows, fresh forests and lush jungles brimming with wildlife. Green is also noted for its healing powers and ability to help relieve stress. This makes complete sense if you think about a performer appearing on a T.V. show, beforehand they wait in the 'green room'.
Adding green to your home
Life is fast paced, cluttered and noisy. We live with the constant hum of the ever-present digital world all around us. Think about the amount of time spent with some form of screen nearby; a phone, laptop, T.V. and even a tiny screen on our wrist keeping us plugged in. It's no wonder that when we need a little escapism and to unplug, we seek the peaceful, natural world outside. Green brings about a sense of calm to a chaotic world.
Feeling like you need to dash to your local DIY store to stock up on green paint and home furnishings? Yep us too. If you fancy dusting the rollers off, then how about considering Ambleside (304) by Little Green (the darker green pictured below.) This is the perfect shade of green to create a tranquil space.
This green hue is brought to life when paired with lots of natural fabrics. Think rattan, hessian, seagrass and linen type materials. These neutral shades are an ideal combination against this particular green. Our oatmeal coloured linen Eversley chair would look fabulous against this calming green.
If you're feeling bold and a little daring why not update your kitchen with an intensely rich shade of green? This kitchen is jaw-on-the-floor gorgeous. From deVol, the cupboards are a cross between emerald and racing green. The dramatic, moody tone is set alight by the brass fixtures, aged wood and the swirling grey and white marble.
If you've well and truly caught the bug and quite literally want to welcome nature into your front room, then how about some lush leafy wallpaper? This bold print is from Graham & Brown. The vibrant design was inspired by the Yasuni National Park in Ecuador and it certainly does tickle our tropical tastebuds! When paired with a blush pink velvet sofa and sprinkled with foliage the end result is simply stunning.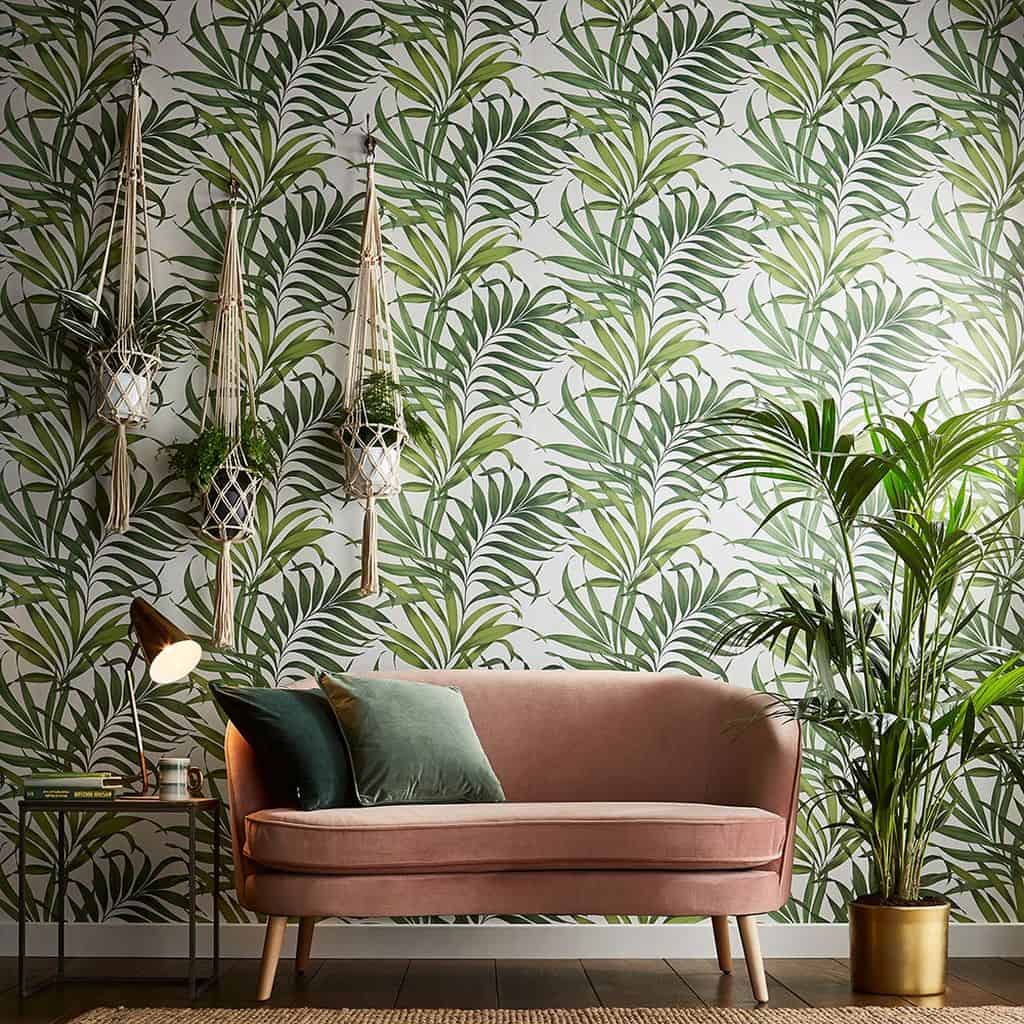 If you're not quite ready to transform your home into a complete forest of green, then how about considering just a few accents here and there? It's certainly a cheaper and quicker alternative which can still pack an interior punch.
Our Wilton wingback chair is wrapped in a soft green velvet. It's a bold shade of green and is fabulous if you want to add a touch of luxury using a sophisticated, traditional design.
Photo credit Claude Hooper Interiors
At the other end of the green spectrum is our sage green Evie cocktail chair. This little velvet number features beautiful stitching detail which is reminiscent of art deco design. So, whether you're after rich tones or muted shades of green, both fare fantastically in either a neutral setting or alongside other vibrant hues.